Review of WayAway: Discounted Flights with Cash Back
|
Previously, booking flights and trip packages required a significant amount of time and effort to evaluate prices from various travel agents. However, with the advancement of technology, many online travel aggregators have emerged, making this procedure much simpler and faster. WayAway, a new flight aggregator, is one such website that allows travellers to easily compare ticket costs and acquire the best market prices.
What exactly is WayAway and can you really save money with WayAway flights?
WayAway is a flight search engine that allows users to find low-cost flights, hotels, and car rentals while earning cashback through its Plus Membership programme. WayAway makes it simple for travellers to find the best bargains by comparing flight prices from hundreds of airlines and travel sites.
In addition, passengers can earn cashback on flights and other travel services such as hotel reservations and local experiences. Finding inexpensive tickets has become easier with WayAway, and the platform is quickly becoming a popular choice for travellers eager to save money on their next vacation.
How to Find Cheap Flights with Cashback Using WayAway?
It is simple to use WayAway to locate cheap flights. Enter your departure and arrival airports, as well as your travel dates. To provide you with information at a glance, the platform will display a price map below the date. Then, from the list of available flights, choose your favourite flight, and you'll see how much cashback you'll receive by purchasing the travel with WayAway.
Low-cost airlines are also included in the search results, which is a big advantage because these airlines are not often seen on other travel aggregator platforms.

One aspect I like about WayAway is that the flight price with checked luggage is displayed on the left side of the page right away. Other platforms often display this just when you begin booking.
It's critical to double-check the whole price, which includes luggage fees, because many airlines charge extra for baggage. Other aggregators' apparently lower flight tickets frequently come with greater luggage fees, resulting in a significantly higher total cost.
WayAway allows you to see the complete cost, including baggage fees, with a single click. Keep in mind, though, that flight rates fluctuate, so if you find a good deal, book it right away. Most airlines provide free cancellations within 24 hours, but double-check.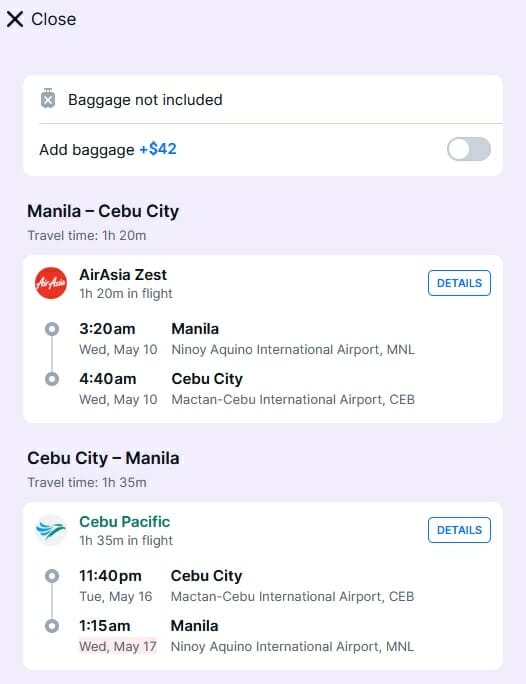 Who Is WayAway Appropriate For?
WayAway is a platform for frequent travellers looking to purchase international tickets. Cashback deals can drastically cut the cost of flying travel, making WayAway an appealing choice. The platform is great for digital nomads, regular travellers, and those looking for a good deal.
But if you only travel once or twice a year, WayAway might not be the best choice because the cashback incentives might not be enough to make it worth your time.
Where Can WayAway Be Used?
WayAway is available as a website as well as a mobile app. The WayAway app is available for download from the Google Play Store and the Apple App Store. WayAway Plus, a membership programme that gives additional perks to travellers, is also available on the platform. You can get an extra 10% off the subscription charge by using the discount code "PISOFARE."
Conclusion
WayAway is a great alternative for travellers who want to save money on their vacation purchases. The portal provides affordable airline costs as well as cashback offers, making it an appealing option for frequent travellers and deal seekers. However, if you only travel on a regular basis, the benefits of WayAway may not be big enough to justify your time. Overall, if you're searching for a new approach to saving money on your travel expenditures, WayAway is worth checking out.